Film Casting with many successful results
Film Casting allows to make a film. Film casting process includes extrusion, orientation, winding for resin from T die.
FEATURE
The breathable film, the highest market share in Japan.
The breathable film has a characteristic that air passes through but water does not. We have highest market share in Japan. Serial production line with orientation unit and printing machine is highly evaluated because it is an unique technology that other makers does not have. This application can be introduced to other countries.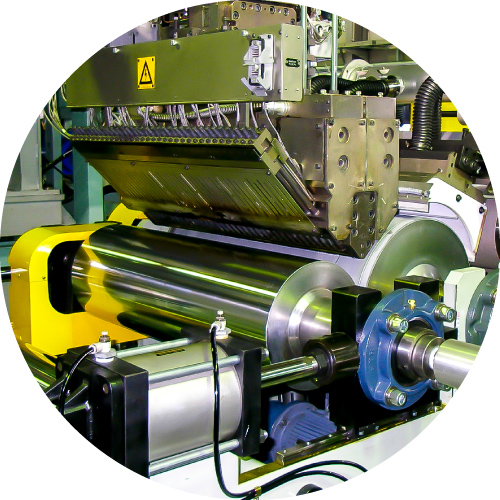 No.1 market share for film casting machine
For film casting of the breathable film we have very best market share. We made the film that allows air to pass through but not allow water to pass through. Now it is used for rain wear and diapers etc.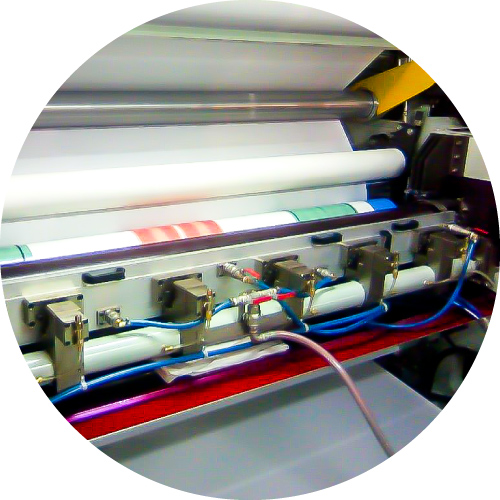 The advanced technology "In-line printing"
We combined the technology of bonding multiple films closely and technology of printing in the same line. It is said that print of layered color on soft and oriented material is very difficult but our technology allows to realize precise and beautiful finish.
Both orientation process and printing process in serial production line are available. We got high trust from the users.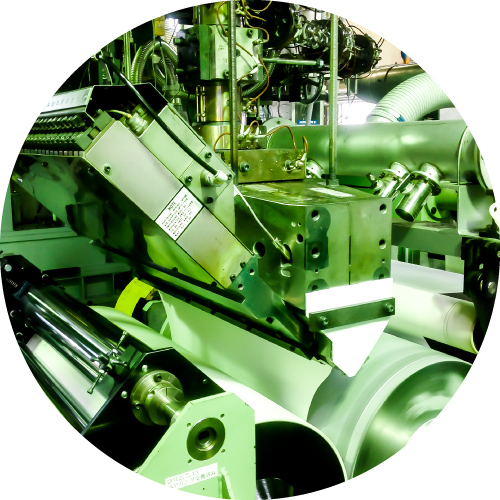 Thick film making such as 0.5mm and 1mm
The heat insulation materials are used on wall, floor and ceiling for high heat insulation and airtight in home. To realize the function the characteristic that air passes through but water and wind does not is needed. The breathable film for home application is one of our good points.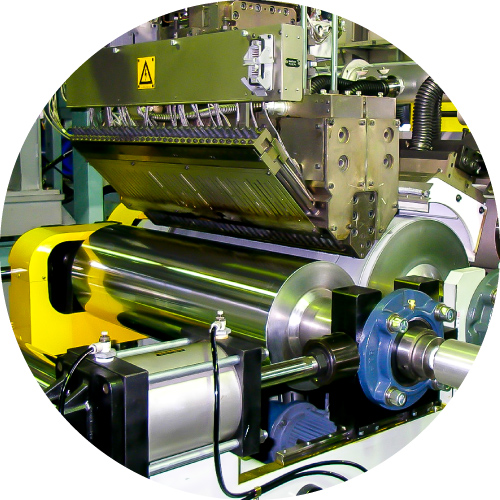 Perfect test available with test machine
We have test machines with lamination and handling function at ourNagoyaprocess center. You can bring your wishing test materials and execute test thoroughly to manufacture the final product. We will support customers for all processes over long period utilizing our abundant experiences. We help for future new function film development.
MACHINES
Universal machine for variety uses with one machine
We have developed laminator machines such as single/tandem/co-extrusion/dry laminators for userapplication. These can be used for lamination of special industrial materials, which has function of insulation and chemical resistance. We have many experiences e.g. the 1st large scale model in Japan (roll width 4000mm).
You can try test lamination before you buy.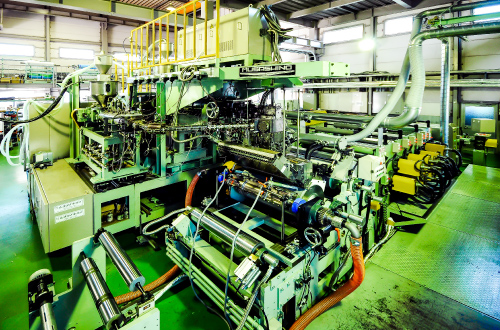 MULTI LAYERUniversal test machine for variety of cases
We have two test machines for film casting with orientation unit and thickness meter. The test unit 1 equips with extrusion for 3 kinds 5 layer, air knife, air chamber, vacuum chamber, rubber nip roll etc; many types of film casting method are OK. Screw analysis is also available.
We realized multi-layer film such as 3 kinds 5 layers and 3 kinds 3 layers adding Φ40mm Φ50mm extruders besides an existing Φ65mm extruder.
Data such as temperature controllers is centrally managed with touch panel display and each setting data can be printed at real time. (After the test we can provide by a media)
Main specification
Main Extrusion: Φ65mm
Sub Extrusion: Φ50mmΦ40mm
Feed block: 3 kinds 3 laye
T die lip open width: 850mm
Roll width: 850mm
Line speed: Max.200m/min
Multi steps orientation: Available
Roll cast: Available
High vacuum cast: Available
Winding dia.: Max.Φ600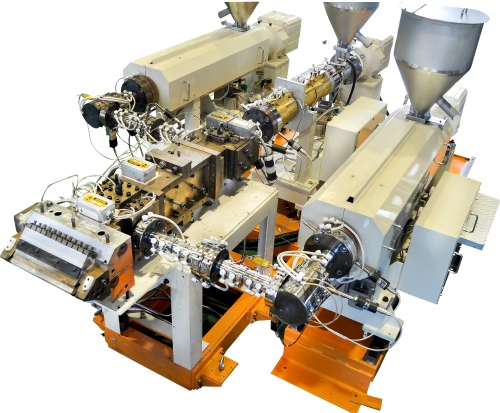 SUPER MULTISuper multi layer film manufacturing machine
The test unit allows to manufacture film of up to 1000 layers and to pile thin films that have many functions with excellent orientation technology. Super multi layer film leads to avoid lowering film strength and lead to better forming characteristic.
Basic construction: 2 kinds and 2 layers feed block + 6 x multiplier
・Improvesfunctions by multi-layer film
・Improvesfilm flexibility
・Reduces crack occurrence
・Improves barrier characteristic
・More chance to Increase the amount of recycle materials
・More chance to increasethe amount of filler
ORIENTATION UNITOrientation unit
Multiple steps orientation unit with heat rolls. Orientation process allows to add a function to film. Any style (horizontal or vertical) can be used.